Wednesday night I made lentil walnut loaf and it was amazing, especially with the persimmon cranberry sauce I made on Monday.
Stuffing is my favorite side dish and that inspired this 3rd Thanksgiving dinner idea. It definitely has a real stuffing flavor to it! The sautéed onions, carrots and celery along with rosemary… I love cooking. 😍
Anyway, I threw in an extra recipe for mashed sweet potatoes in case you want to mix it up a bit.
Either way, you can't go wrong.
So on to recipe number 3 of easy, budget friendly Thanksgiving dinner possibilities!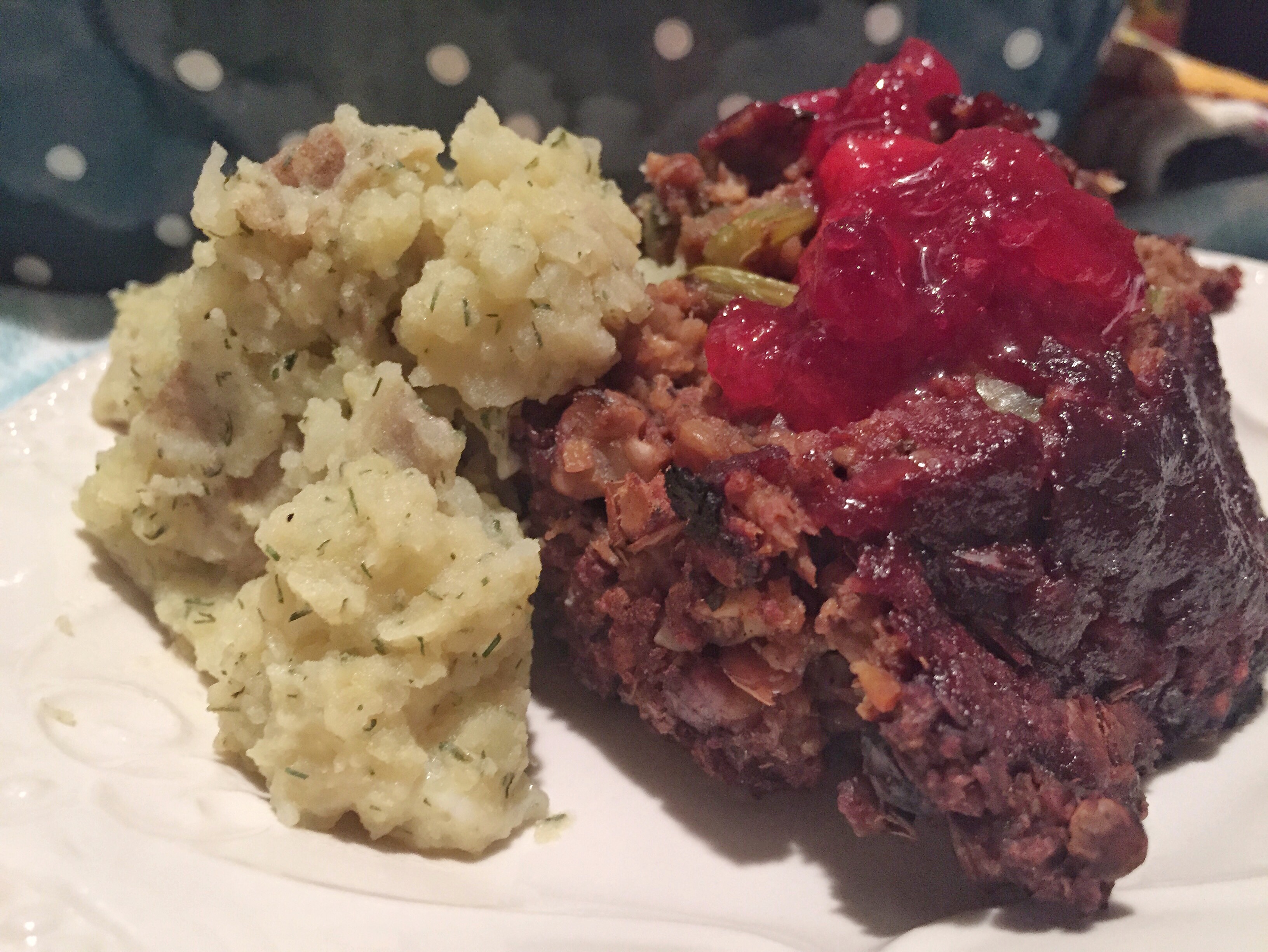 Lentil Walnut Loaf
1 Medium onion, diced
3 or 4 Stalks of celery, diced
3 or 4 Carrots, diced
1/4 C crushed walnuts
1 C cooked lentils
1/2 C panko bread crumbs
3 T nutritional yeast
1 C TVP (soaked in 1/2 C hot water)
1 C veggie stock
1 Egg replacer (1 T flax meal + 2 T water or 1 VeganEgg. Let this sit for a couple of minutes)
Salt and pepper, to taste
1 t onion powder
1 t garlic powder
2 t ground rosemary
Olive oil, for cooking
Glaze
3 T ketchup
1 T balsamic glaze (balsamic vinegar is fine too!)
OR
3 T tomato paste
1 T balsamic vinegar
1 t molasses
2 t brown sugar
Dash of salt
Pre heat oven to 450'
In a pan, sauté onions, carrots and celery with olive oil. Once the onions are translucent, add in walnuts. Cook for about 5 minutes.
Boil water and pour over TVP so it rehydrates. You may end up using a tad more than 1/2 cup, but don't go crazy. You don't want it too wet and mushy.
Ultimately, it should resemble large crumbs. Or those beef crumbles you get for Taco Tuesday!
Transfer sautéed mixture to a large bowl. Add the rest of the ingredients and mix together.
Pour into a greased bread pan.
Spread glaze all over the top of the loaf. Just mix the ketchup and balsamic together.
Bake in a 450′ oven for 30 minutes.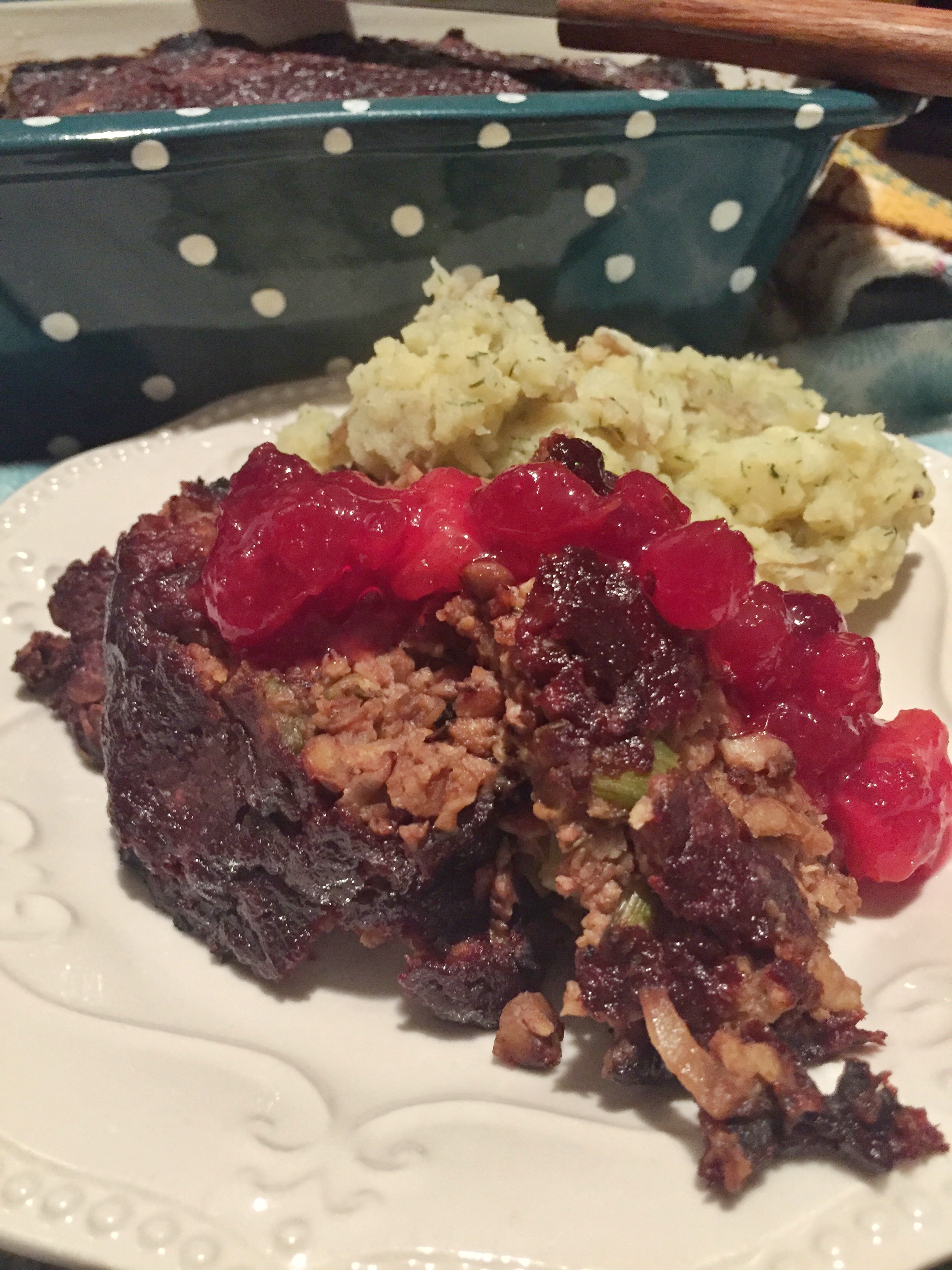 Mashed Sweet Potatoes
4 Medium sweet potatoes, cut into chunks
1/4 C olive oil
1/3 C nutritional yeast
Salt and pepper, to taste
1/2 C veggie stock, or water
1 t garlic powder
1 t onion powder
OR
Cheezy Dill Mashed Potatoes
3 or 4 Large potatoes
1/2 C veggie stock (or water)
1/4 C nutritional yeast
2 Slices of Daiya Swiss Cheese (any non dairy cheese is fine)
1 T Earth Bound
1 T dill weed
Salt, to taste
Cut the potatoes and boil them until tender.
Drain and put back into the pot. Add all the ingredients and mash.
If they're a little dry, add more stock or water.
And that's all folks! A side of green beans or asparagus would go well also!
Enjoy ❤️